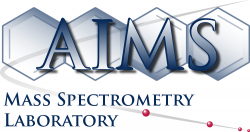 Established in 2005, the AIMS laboratory (Advanced Instrumentation for Molecular Structure) is the core mass spectrometry facility in the Department of Chemistry. The facility houses a number of chromatography and mass spectrometry instruments and is equipped to provide mass analyses for a wide range of compounds.
We accept samples from researchers within the Department of Chemistry, the University of Toronto and external clients from universities, hospitals and private industry. To learn more about the instrumentation and services available, please take a few moments to browse the website.
Please direct all inquiries to the Laboratory Manager:
Dr. Matthew W. Forbes, PhD
E: matthew.forbes@utoronto.ca
T: (416) 978 5089
COVID-19 Information:
There are no COVID-19 restrictions currently impacting operations in the AIMS Laboratory.
Please visit the UTogether page for U of T updates.